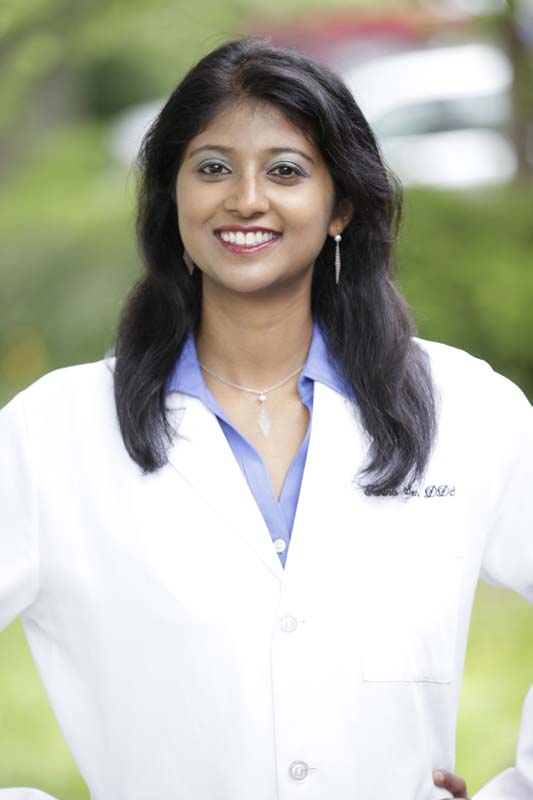 Dr. Tuhina Roy
Dr. Roy loves being an orthodontist and combining art and science to create beautiful, lifelong smiles for her patients. Dr. Roy works very closely with her team of professionals and her patients to provide them with the best possible orthodontic care, and to keep them informed about each step of their treatment process. She wants to make sure that her patients feel comfortable with all aspects of their treatment. As a former orthodontic patient herself, she understands the need for patients to have their questions answered, and to be full team members in the orthodontic process.
Dr. Roy is a native of New Jersey. She was born in Denville, grew up in Hillsborough, and went to school in Somerville. She graduated in the top 10 of her class at Canisius College and the University at Buffalo School of Dental Medicine. She completed her orthodontic residency at Vanderbilt University in Nashville, Tennessee. During her residency, Dr. Roy gained experience in orthognathic surgery and treating sleep apnea. Dr. Roy takes her commitment to learning seriously and regularly participates in continuing education classes to stay on the cutting edge of orthodontics. She has received additional training in Invisalign®, Wilckodontics and sleep apnea treatment. She has a four-year-old daughter and is expecting her second child soon!
Dr. Roy is celebrating her sixth year in Little Falls and is happy to serve the towns of Little Falls, Totowa, and Woodland Park. Troy Orthodontics also serves the communities of Paterson, Fairfield and Wayne and welcomes patients from Lincoln Park and Caldwell
Meet Our Doctors
At Troy Orthodontics, Dr. Roy works closely with a team of skilled dental professionals to ensure that you receive the orthodontic care you need to give you a healthy smile. You can learn more about our dedicated doctors below.
Dr. Rupali Shah, DDS
Dr. Shah is originally from Connecticut before she moved to New Jersey. She attended the University of Connecticut for undergrad, completed her DDS at Columbia University and her orthodontic residency from University of Rochester. She practiced in Buffalo, NY and Bridgeport, CT before joining us in Little Falls.
Dr. Brittney Zito, DDS
Check back soon to meet Dr. Zito!
Meet Our Team
You can feel confident about the treatments and service we provide at Troy Orthodontics with Dr. Tuhina Roy's caring team. They are able to provide friendly and attentive care, and are gentle with every patients' procedures. Because we also speak Spanish and answer all our patients' questions, our team caters to every family they meet. You are invited to call our office and schedule an appointment our orthodontist in Little Falls, New Jersey, soon.
Areliz – Office and Orthodontic Assistant
Areliz has been with Troy Orthodontics since the beginning. She speaks Spanish and English. She was born and raised in Passaic County and attended Passaic Valley High School. She enjoys spending time carrying out volunteer services continually as a member of the World Mission Society Church of God. This group was recently awarded the U.K. Queen's Award for Voluntary Service and U.S President's Volunteer Service Award. Her favorite part about working with our patients is seeing their smiles transform over time. She says, "it is very rewarding for me as a dental assistant to give care to our patients in a calm and caring atmosphere where their comfort and wellbeing is the main concern."
Linda – Orthodontic Assistant
Linda has more than 40 years of orthodontic experience and joined our team in 2017. Growing up, she always knew that she wanted to work and help children. She loves joking around with our patients and seeing the joy that we bring to them. Linda is never too busy to stop and explain each procedure as treatment progresses.
Linda has been married for 41 years, and has 3 grown children and 7 grandchildren with whom she loves spending time. Outside of the office, she enjoys reading about the supernatural and going on vacation to Florida with her husband.
Florencia – Office Assistant
Florencia joined our team in 2017. She graduated from Passaic Valley high School, and is currently enrolled in college to become a Dental Hygienist. She shows great care in overseeing the office operatory scheduling appointments and accommodating the times that work for both our patients and our staff so that our practice runs smoothly. Florencia is bilingual in English and Spanish.
Florencia got married in 2017. She is the oldest of 3 children, and enjoys reading, shopping, and traveling.
Herly – Orthodontic Assitant
We are pleased to have Herly at our office as she has been an orthodontist assistant for about 10 years; and she loves working for Dr. Roy. She is currently a dental hygiene student at Bergen Community College. Herly's family comes from Peru and most are in the dental field. In fact, her mom is a dentist from Peru and her dad is a dental technician. She helps our orthodontists in their treatments, takes accurate impressions, and adds a fun energy to the atmosphere of the office. You may even hear her singing! Herly loves the see the orthodontic progress that every patient achieves, especially because it's exciting to see younger patients become confident in their smile.
Outside of the office, she loves to travel, study, swim and attend church at the World Mission Society Church of God.